Wed 2 Apr 2008
Following on from the last post, I've got to mention the recent direction Cadburys have gone in for their latest adverts.
Of course we had the Gorilla ad a few months ago and now they've recently started showing the follow-up which is even stranger!
Plenty of viewers were put off by the ad featuring the gorilla as it had nothing at all to do with the product it was advertising so I can't see this latest one getting a more positive reception.
I wonder if this advertising strategy is working the wrong way round - are they finding a song they'd like to use and then trying to work out how to incorporate it into an ad?
Having a subject which has nothing to do with the actual product is, I assume, meant to make it more memorable.  For example, if you think about some companies such as British Telecommunications, Vodafone, T-Mobile and the like you could guess at what each does but if you were presented by the name Orange without knowing anything about them would you put them in the same business category as the others?
By naming your company something diverse, it makes you stand out - a bit like the insurance company Elephant - and I imagine these adverts are intended to do the same.
If the Cadburys adverts all featured chocolate then they would blend in together with other adverts from the likes of Galaxy and Mars.  The fact I'm even talking about their new advert here backs up their decision to pursue this line of thought!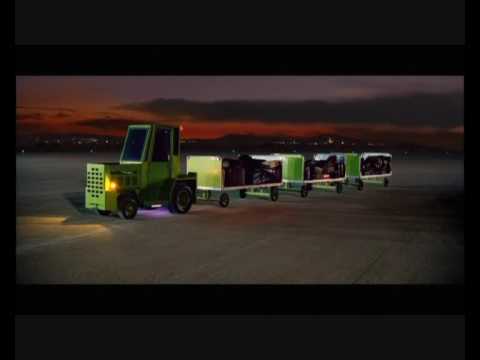 I find these adverts strange in that I really like them, yet have absolutely no idea why!  Does it make me want to go out and buy a bar of chocolate?  Not really, so I suppose in that sense the adverts have failed, but who's t say that when I do want to buy some chocolate, this advert won't spring into my mind and make sure it's Cadburys that I buy.
Cadburys will be the first to admit these ads don't have anything to do with their product, which is the main criticism levied at them.  They call the ads "Glass and a half full productions" which is a reference to the "Glass half full" mentality - in other words these adverts are intended to make you feel the same way you do after eating their chocolate.
As I enjoy watching them, and I also enjoy eating chocolate, perhaps they have succeeded in their aim after all!
3 Responses to "Cadburys new Airport advert - better than Gorilla?"
links for 2008-04-03 - Smarter Than Your Average Says:
April 3rd, 2008 at 1:37 am

[...] craigblog.co.uk: Cadburys new Airport advert - better than Gorilla? For me, this advert is too long and there's no payoff. The gorilla at least felt worthwhile. [...]

Don Speekingleesh Says:
April 11th, 2008 at 9:26 pm

I love both the ads. So much better than the usual rubbish that I FF through.

I thing the Glass and a Half Full reference is about the old slogan about the chocolate being made from a glass and a half of milk.

links for 2008-04-03 | smarterthanyouraverage.com Says:
August 10th, 2009 at 1:42 pm

[...] craigblog.co.uk: Cadburys new Airport advert – better than Gorilla? For me, this advert is too long and there's no payoff. The gorilla at least felt worthwhile. [...]
Leave a Reply